5 Factors to Consider When Choosing Tomato Products for Your Pizza
"You need an entire life just to know about tomatoes" ~ Ferran Adria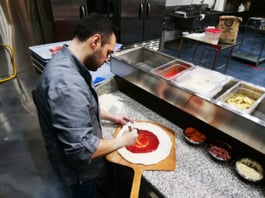 Choosing the right tomatoes for pizza isn't just a matter of taste. Purchasing the right tomatoes can also impact our health and our environment while saving operators time and money. It's no coincidence that National Wellness Month and harvest season both take place in August. As professional pizza makers, the quality of the ingredients we choose plays a major role in the overall healthfulness of our creations. Ciao Tomatoes are grown in rich, fertile soil that has been "kissed" by the various eruptions of Vesuvius. The climate affects the taste and nutrition of these tomatoes, often called "the fruit of the sun." The sun increases the concentration of lycopene, a powerful antioxidant in tomatoes. For generations farmers have passed on their knowledge and traditions maintaining their worldwide recognition for quality. Eating significant amounts of tomatoes can help us to protect ourselves against cancer and maintain healthy blood pressure. Eating them can even reduce blood glucose in people with diabetes. The presence of carotenoids such as lutein and lycopene that they contain is believed to protect our eyes against light-induced damage. Tomatoes also contain significant amounts of fiber, vitamin C, potassium, and collagen which play a role in our overall health.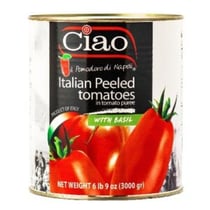 We are proud to partner with Orlando Foods and to use their CIAO Whole Peeled Tomatoes as well as the Authentica Crushed Tomatoes during our pizza certification classes and special events. CIAO brand Italian Peeled Tomatoes are produced specifically to meet the needs of Chefs and Pizzaioli alike. These tomatoes are packed in heavy juice, containing less water than competing brands and giving higher yields in terms of total tomato solids per can. The addition of fresh basil provides the perfect balance of flavor and sweetness to all styles of pizza.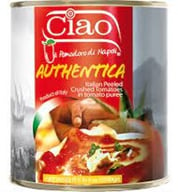 CIAO AUTHENTICA, on the other hand, is what we turn to when we want to make traditional Neapolitan-style pizza. Since this style of pizza requires uncooked tomatoes instead of a sauce, using skinless and seedless crushed tomatoes works best. With a higher amount of tomato solids, Authentica is perfect for making traditional pizza or tomato sauces.
The flavor of the tomatoes that we consume depends upon many things. Purveyors such as Orlando Foods analyze the various pigments in tomatoes to produce different balances of sugars and acid, which determine how the tomatoes taste. Deep red hued tomatoes offer the most depth of flavor. Higher sugar and acid levels in tomatoes produces more flavor. Even the foliage on tomato plants can make a difference. Since tomato plants with more leaves can capture a lot of sunlight, a plant with dense, healthy foliage can convert more sunlight into sugars and makes them taste better. Various heirloom varieties, such as San Marzano and Datterini have a more foliage than hybrids, which helps to enhance their flavor.
Did you know that In Southern Italy, tomatoes are collected and transported in boxes with a maximum capacity of 250 kg each? This time-honored tradition ensures the integrity of the fruit is preserved, and that only high quality tomatoes are selected.
Here are a few factors to consider when choosing a tomato product for your pizza: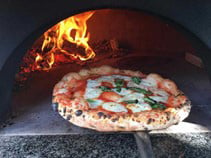 1. The style of pizza you are making – Different styles require different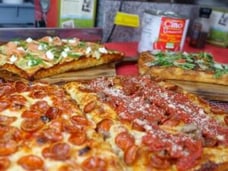 types of tomato toppings. Pizza Napoletana, for example, calls for uncooked tomatoes, while the Detroit and Chicago styles often use a sauce. This should be the first thing you decide upon.
2. Consistency – One of the factors that happy customers always cite when mentioning their favorite pizzas is consistency. Ciao actually has their own canning facility, which is a key factor in the consistency of their products. It's located in the center of the two largest tomato growing areas, just 90 minutes from the fields to ensure that the tomatoes are canned and preserved as soon as they are picked. For this reason, they have complete control over the rigorous sorting of raw tomatoes according to color, size, and shape and all tomatoes are canned within 6 hours of being picked from the vine. Having a product you can count on, such as CIAO brand tomatoes will make a difference in your menu offerings.
3. Quality Ingredients – It's important to be able to offer your patrons the best products that money can buy. CIAO products are GMO-free and imported from Italy. Their product line also includes organic and DOP tomatoes to choose from. Since they are made in a green factory, you can rest assured that their production process is eco-friendly as well. From start to finish Ciao tomatoes are handled with the greatest care ensuring only fully mature fruit are included in their products. After a rigorous selection process consisting of multiple rounds that include manual sorting, Ciao tomatoes are packed in BPA-free, white enamel-lined cans to protect the fresh-from-the-vine taste.
4. Reputation – Orlando Foods has been a leading food importing company that has worked with industry leaders since 1948. The third-generation business is highly specialized in the importation and distribution of the best flours, tomatoes, buffalo mozzarella, vegetables in oil, and pasta from Italy.
5. Support – Orlando Foods works with distributors and restaurateurs to supply, educate, and train this segment on the best Italy has to offer. They specialize in fewer high quality and complementary products in order to bring the greatest possible value to their customers. Their website even offers scores of recipes to help consumers get the best results with their foods.

Follow Orlando Foods on Instagram and Facebook