It's Beginning to Look a Lot Like Pizza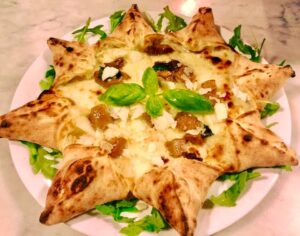 Adding festive, holiday flair to pizzas is an easy and fun way to incorporate the spirit of the season into our favorite food. Each December, we like to decorate our Christmas tree with pizza ornaments and seek out additional ideas to get creative in the kitchen. We're often inspired by our Pizzaoli Instructors in Italy who make their holiday pies in the shapes of Christmas trees, stars, and stockings. In addition to the fancy shapes themselves, upgrading ingredients can be a great way to enhance your meals during the most wonderful time of the year.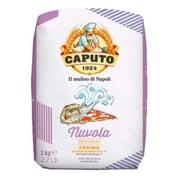 Our partner Mulino Caputo offers two flour varieties that we can't get enough of: Nuvola Super and the 00 Americana. 00 Americana is great for traditional American doughs, such as New York style pizza, while Nuvola Super is the perfect solution for contemporary doughs such as Neo-Neapolitan and Roman styles.
Originating in Italy, the Caputo's family-owned Company has been the gold standard of Neapolitan pizza flour since it was established in 1924. Made in Naples, Italy, their high-quality flour is preferred by Maestri Pizzaioli all over the world. Their product is slowly and finely milled to create authentic flours designed specifically for pizza, gourmet breads, cakes, and pastas!
Mulino Caputo's Pizzeria flour bakes a soft, flavorful crust for an authentic Neapolitan pizza with a soft, tender bottom and light, airy cornicione.
Nuvola Super is a professional pizza flour made from 100% wheat flour, perfect for long fermentation baking. Its elasticity, gluten resistance and high quality-protein help to create a consistent, long-rise dough. Nuvola Super is perfect for Neo-Neapolitan and Roman-style pizza made in high heat wood fired, gas or electric ovens in high temperatures over 700°F.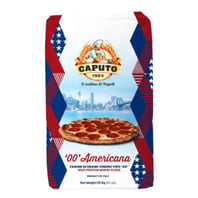 00 Americana is made from soft wheat flour and is ideal for the classic American Style pizza, for any type of oven. It produces a flavorful crust with optimal hydration and is recommended and specifically designated by Caputo for American artisan pizza. Detroit, Chicago, New York, and California-style pies are fired to perfection with this type of flour.
In addition to your favorite pizza dough recipes, the Mulino Caputo website hosts scores of products, both for professional and home use that will enhance your baking all year long.
Whether or not you're looking for the best flour to make panettone, Easter bread, gnocchi, or to accommodate gluten sensitivities, Mulino Caputo has a flour for you. No matter what your favorite pie is, there's no reason why pizza can't be incorporated into Christmas and New Year's recipes like they are in Italy. Your guests will love cutting into stocking-shaped stuffed pizza and calzoni at informal gatherings. Family and friends will also be dazzled with upscale pizzas decked out with ingredients like burrata, smoked salmon, and even caviar for more elegant affairs.
Gourmet recipes with global flare in English and Italian are just a click away.