Mastering Fresh Mozzarella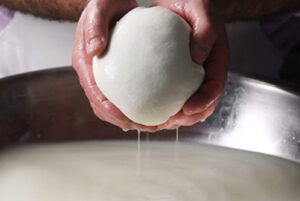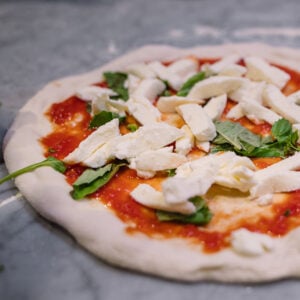 Both our students and staff get excited when Grande cheese participates in our professional certification courses. It's not every day, after all, that you can learn the techniques of stretching fresh curd in just minutes! Since our opening, Grande cheese has been the perfect partner, and we are proud to use their products in our classes and recipes. Last month, Grande representatives held a hands-on workshop during our 3-Day Intensive Traditional Neapolitan Techniques in Wood-Fired Ovens by Maestro Pizzaiolo Enzo Coccia and will do so during all Pizza University upcoming classes.
With Grande Sales Associates on hand, emerging pizza-makers can learn what goes into making high-quality cheese, which cheeses work best for topping pizza, as well as other useful information about cheeses. Starting with high quality, fresh curd, our students will learn how to stretch, shape, store, and use their very own hand-made mozzarella! Grande's curd is easy to work with and delivers a consistent performance, every time. Their fresh curd is all natural which means that it delivers a pure dairy flavor and look which transforms your signature dishes into unique works of art. If you prefer to not stretch fresh curd, Grande offers 5 different sizes of Fior• di•Latte to meet your menu needs. Their Fior•di•Latte product is all natural and delivers a light, refreshing milky flavor that leaves your customers wanting more. Additionally, it is approved by VPN Americas as a Local Promoter.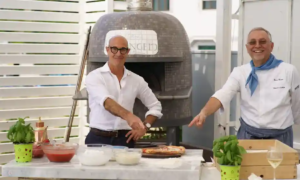 Like us, Grande values the tradition and authenticity of true Neapolitan pizza. It is for that reason that we love to pair Grande's products with world renowned authorities such as Chef Enzo Coccia. Named "the Master of Pizza Napoletana" by the Michelin Guide and the "pizzajuolo per antonomasia" by the Gambero Rosso, Enzo Coccia is a respected authority on the culture of the traditional Neapolitan pizza. You may have seen the Maestro's appearance on the premiere season of Stanley Tucci's "Searching for Italy" and the Chef also teaches a course at the University of Naples, has written a scientific guide on pizza making, and even consults internationally when he is not at his landmark Neapolitan pizzeria, La Notizia.
Master Pizzaioli are purists and demand only the best ingredients. High quality Mozzarella can make or break your pizza. Grande Mozzarella has a rich buttery flavor, which is what makes it the first choice for every classic Italian recipe.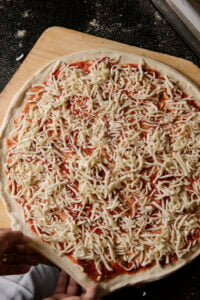 Regarded by the foodservice industry to be best in class, their cheese melts evenly with consistent yield and has excellent stretch and tender mouth feel. Grande's Mozzarella does not burn or oil off and it also allows for fuller pie coverage, so you use less of it, and it also reheats well.
Just like cheese from Italy, all Grande cheeses are free of preservatives, fillers and artificial ingredients, unlike other products on the market in the United States which use titanium dioxide and other substances to maintain their white color.
Even if you can't attend one of our classes in person, there are still lots of ways to be inspired by Grande's selection. Their website shares scores of recipes and insights from their preferred operators. From satisfying pasta dishes to gourmet pizzas, savory salads to mouthwatering desserts, inspiration is just a creamy click away.
When you want convenience without sacrificing quality and consistency, you can rely on Grande cheeses, just like we do.