5 Ways to Improve Dough Consistency
Achieving uniformly perfect pizza and bread dough consistency is a challenge for many pizzaioli and bakers. In order to guarantee success, the gluten in a dough must be developed perfectly which requires a lot of time, highly skilled bakers and pizza makers, as well as the proper ingredients and conditions. Using the wrong flour, under-kneading, and inconsistent leavening are common issues in commercial kitchens.
We enjoy partnering with companies that provide innovative solutions to their customers in the same way that we do. Lesaffre is a company which prides itself in offering ingredients and recipes that are easy to store, prepare, and use, while helping bakers to both save time and meet the growing demand for food 'on the go.' Another fantastic feature, in our opinion, is their offering of versatile products and their new Clean Label Series.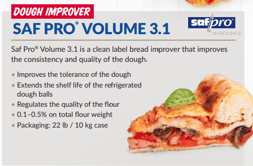 The Saf Pro® Clean Label Volume Improver Series includes non-GMO dough improvers that enhance dough strength, gas retention, and volume for all yeast-raised baked goods. Each of the products is certified Kosher, Halal, Vegan, Non-GMO, and Clean Label. While Saf-Pro® Volume 3.1 is a clean label bread improver that improves the consistency and quality of all dough types, it's also specifically useful with pizza dough.
Here are 5 ways that using the Saf Pro® Clean Label Volume Improver Series Improves Dough Consistency:
Improved Tolerance
Clean label dough conditioners improve the tolerance, consistency, and quality of the dough.
Sensory Enhancement
Clean-label, emulsifier-free bread improvers produce a final product with a richer crust color, consistent crumb structure and texture.
Improved Volume
Provides better dough strength and handling for a variety of processes and recipes.
Better Overall Consistency
Incorporates functional ingredients to standardize the flour quality.
Improved Strength
Helps reduce the risk of tearing.
In addition to pizza, each of these items can be improved with Saf-Pro® Volume 3.1: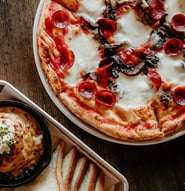 - Bagels
- Croissants & Pastry
- Crusty Bread
- Tortillas
- Multigrain Bread
- Pan Bread
- Pizza
- Rolls & Buns
- Sourdough
- Specialty
- Sweet Bread
- Whole Wheat
Not sure how to use Lesaffre products with existing recipes or which products will best serve your needs? In order to further support their clients, Lesaffre has developed digital, customized, and pre-prepared services. You can take advantage of the following resources:
Digital
Lesaffre has designed a range of smartphone apps to help bakers in a growing number of countries to gain a better understanding of their production costs and to make better product choices. These apps also provide other services, such as helpful tutorials and tasty recipes.
Customized
With the support of Lesaffre, bakers have a range of turnkey solutions for quick and straightforward bread-making. These pre-prepared options require them simply to open a sachet, and then add water, yeast and sometimes flour to start a fail-safe baking process.
Pre-prepared
Among the key trends in today's baking industry is the demand for products that are both 'easy-to-use' and 'ready-to-use'. Their pre-prepared products, with their simple-to-follow instructions and clearly marked dosages, are specifically designed to meet that demand.
No matter which baking issue you are trying to avoid or resolve, Lesaffre has the right product to meet your needs. Learn more here.